Welcome to Copenhagen!
Hej fra københavn! My name is Rebecca and I'm a junior, environmental studies major at Amherst. I have always been passionate about protecting the environment and I try to incorporate my awareness for green living habits into everything that I do. Since starting at Amherst, I have been very involved in the work of the Office of Environmental Sustainability and the EcoRep program, with the overall goals of spreading environmental awareness and improving sustainability on our campus. I'm really looking forward to continuing my work with the OES while abroad, focusing on international sustainability efforts. 
This semester, I am studying in Copenhagen, Denmark where I will be delving further into my environmental education, learning both inside and outside of the classroom about a society that is proactively addressing issues of carbon emissions and climate change. In my blog, I will be specifically looking at the use of alternative transportation throughout the city, including biking and various forms of public transit, and the ways in which intentional urban design facilitates cleaner modes of mobility. 
There are a few reasons why I chose to explore a sustainability topic while abroad and why I decided specifically to pursue this research area of transportation. The first is because, despite some recent efforts to mitigate climate change, climate projections continue to worsen and actions to reduce emissions are proving to be insufficient to make the significant positive impacts we need. If no changes are made and we continue with business as usual, current predictions estimate between 4 and 4.9° C of warming by the end of the century. The environmental changes that will ensue under this amount of temperature variation are drastic and quite unimaginable to us. The only way we can really prevent this amount of global change is to understand the ways in which we can realistically and effectively reduce our carbon emissions, and we need to do it quickly. 
I want to focus on transportation, specifically, because of its drastic carbon footprint. Transportation is consistently one of the sectors most responsible for climate change, contributing an estimated 20% or more of total annual global carbon emissions. In 2017, 27% of EU emissions alone came from aviation and transportation, and unlike some other sectors, transportation emissions are projected to rise in the coming years, primarily due to increased demand for road vehicles. Clearly, we have a lot of work to do when it comes to redesigning the transportation sector and that requires rethinking the way we get from place to place. Relying on alternative fuel sources is one way to reduce emissions (i.e. switching to electric vehicles), but just as important is providing incentives to move away from these especially harmful types of transportation, such as creating effective public transportation systems and building infrastructure to make biking and walking easier and more efficient.  
Finally, Copenhagen is an ideal city to study transportation. It is well-known for its extensive biking culture, and it is consistently ranked as the most cycling-friendly city in the world. The majority of Copenhageners (over 60%) choose to bike throughout the city and on their daily commute to work or school rather than drive, a phenomenon I've noticed since arriving here three weeks ago. Biking really is the most efficient way to get around this city. It's amazing to see the crowds of people all biking each morning instead of the cars clogging the roads that we normally see at home. Public transportation, including buses, trains, and the metro, in Copenhagen are also great examples of effective alternative transportation systems that I will be learning more about.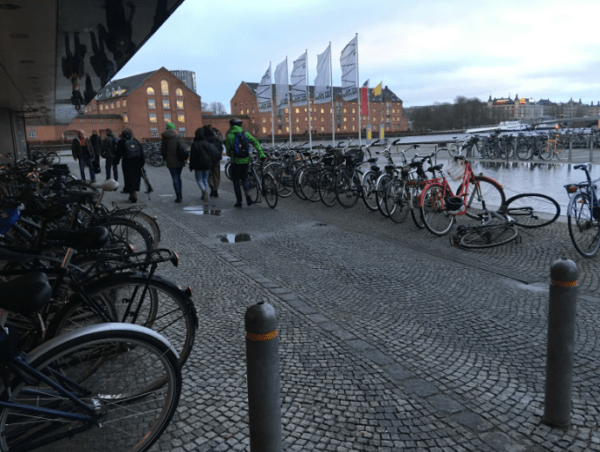 This is a really exciting time to be studying environmentally-related issues here because Copenhagen recently announced an extensive plan to become the world's first carbon neutral city by 2025, a lofty goal especially considering the 20% projected population growth for the area over the coming years. Nonetheless, the Copenhagen government is determined to make positive changes to both mitigate carbon emissions and adapt to the already-present effects of climate change, a decision that has put Denmark at the forefront of global climate action. The plan is centered around four areas of action–energy consumption, energy production, mobility, and city administration–over three different phases of implementation. The initiatives and project ideas range from increasing the use of public transit, to implementing on-land and offshore wind turbines in Copenhagen, to increasing the energy efficiency of buildings. For more details on the CPH 2025 Climate Plan, I encourage you to read about it here and here. 
While Copenhagen has done a great amount thus far to reduce carbon emissions, it still has a long way to go before it reaches its goal of neutrality in just five short years. Retrofitting existing energy and building infrastructure will be a huge piece of the puzzle, as will improving and extending bike lanes and public transportation lines. I'm hoping to learn more about the biking culture in Copenhagen, as well as the locals' perspectives on alternative transportation methods, and gain a greater understanding about what is necessary to improve our access to public transit at home in order to reduce the carbon footprint of the transportation sector. Join me in my exploration of alternative modes of transportation and climate planning in Denmark throughout my semester abroad. 
Vi ses!
Rebecca